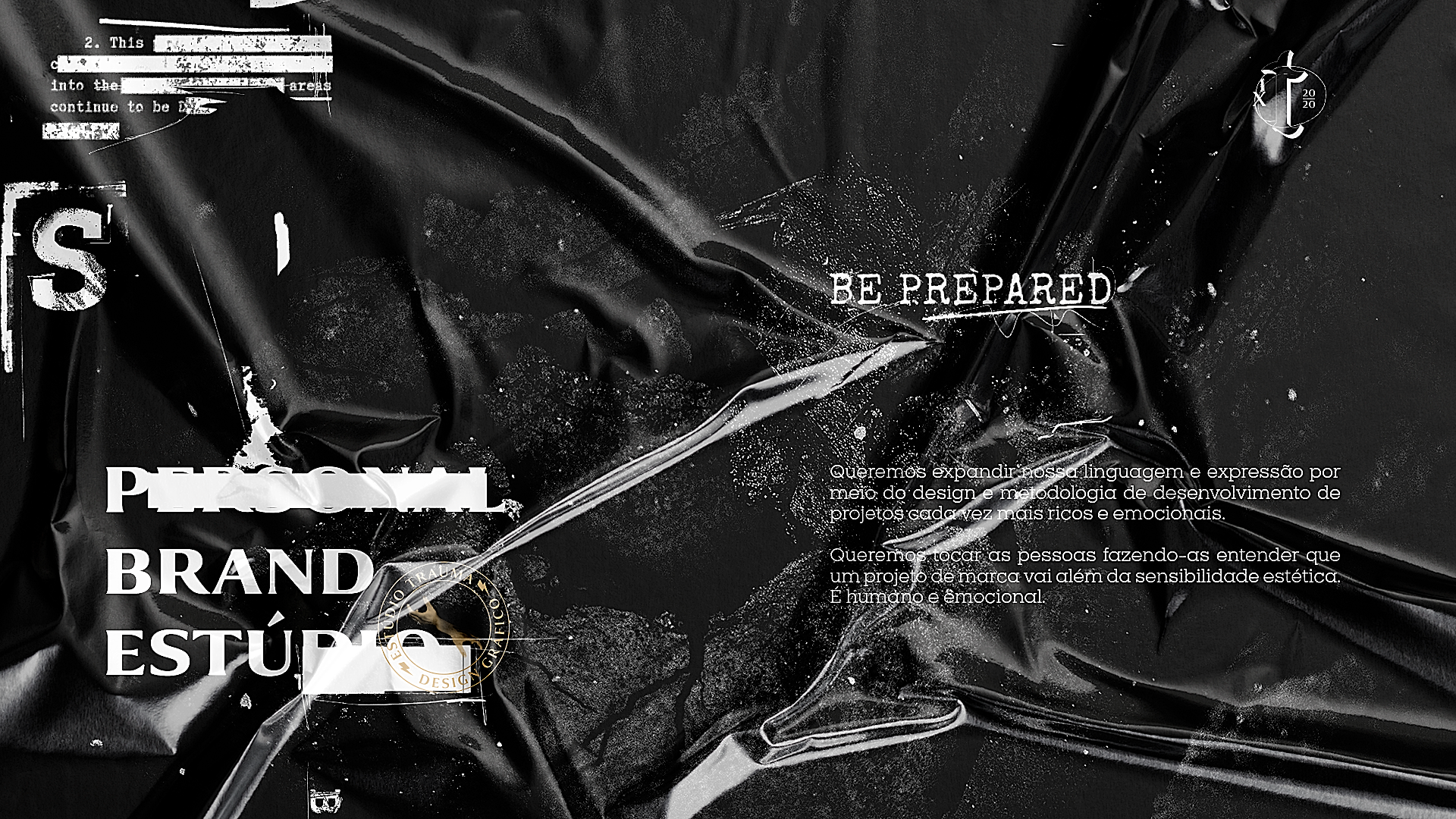 Olá! Somos o Estúdio Trauma. Um estúdio gráfico no segmento de design. Hoje atuamos especificamente com design de marcas e projetos gráficos para pessoas e empresas (embalagens, rótulos e produtos). Acreditamos que o design tenha um papel fundamental em nossa vida e sociedade fazendo toda diferença em qualquer negócio, independente do tamanho ou renda capital
Fundado pelo

designer Lucas Oliveira

, que já atua há mais de 8 anos no mercado criativo como designer gráfico e diretor de arte. Passou por diversas agências de publicidade e marcou seu nome em estúdios de design, acumulando a experiência necessária para abrir o próprio estúdio e desenvolver sua própria metodologia.
A equipe é formada por Designers, publicitários, e profissionais do marketing, todos pensando juntos como melhorar sua empresa. Profissionais e parceiros qualificados, capacitados para atender clientes em projetos gráficos nos mais diferentes tipos de mídias. E nessas páginas a seguir, queremos mostrar a você, além da nossa metodologia de como atuamos com as marcas e projetos que desenvolvemos; queremos também te ajudar a fazer algumas perguntas e reflexões sobre o mundo moderno e como atuamos nele.
Acreditamos que, além de bonito, o Design tem que ser funcional, belo e provocativo. O nosso design e ruidoso e desperta sensações que afloram na pele.
EN
__


Hello! We are the Trauma Studio. A graphic studio in the design segment. Today we work with brand design and graphic projects for people and companies (packaging, labels and products). We believe that design plays a fundamental role in our life and society making all the difference in any business, regardless of size or income
Founded by designer Lucas Oliveira, who has been in the creative market for more than 8 years as a graphic designer and art director. Go through several advertising agencies and mark your name in design studios, accumulating the necessary experience to open your own studio and develop your own methodology.
The team is made up of designers, advertisers and marketers, all thinking together how to improve your company. Qualified professionals and partners, trained to serve clients in graphic projects in the most different types of media. And these pages to follow, we want to show you how, in addition to our methodology of acting with brands and projects that we develop; we also want to help you ask some questions and thoughts about the modern world and how we operate in it.
We believe that, besides being beautiful, Design has to be functional, beautiful and provocative. Our design and execution and arouse sensations that affect the skin.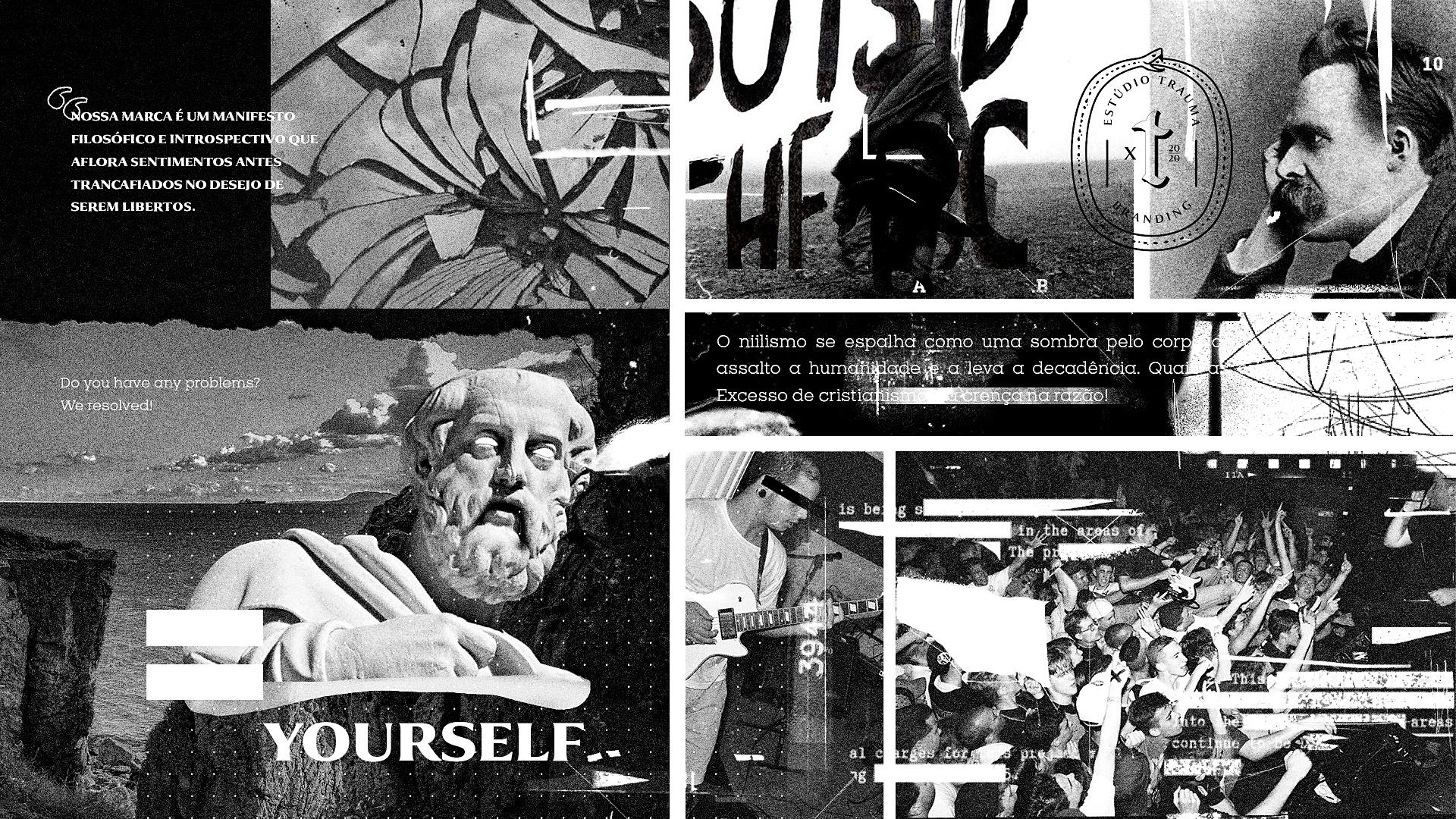 PT
__
Nossa marca vai além do design.
Vivemos em um mundo rodeado e afetado o tempo todo por cheiros, texturas, sabores, cores, gestos, gravuras e sons que se modificam e reverberam nossa maneira de se expressar e viver dentro desse universo multifacetado, tangível e colecionável, à espera de serem transformadas para um bem maior.
Percebemos então que aqui o design se une e ganha o contra peso, um resultado da gravidade sobre corpos, os tornando mutáveis, devolvendo seu tom de voz, agora, único, preciso e específico. Livre de cópias
Atuamos no silêncio ruidoso. Ouvimos, ouvimos e prostrados atenciosamente queremos entender suas dores, felicidades, conquistas, sonhos, particularidades, singularidades. Afinal somos espelhos de nós mesmos.
E nesse eterno retorno de encontros eternos, queremos interagir, progredir, compreender as pessoas, parceiros e clientes, a fim de mostrar o que sentimos e somos, para que eles também possam se comunicar e influenciar com novas propostas, reflexões e ideias que iram mudar a forma que as outras pessoas também vejam seus espelhos ao redor.
Nossa marca é um manifesto filosófico e introspectivo que aflora sentimentos antes trancafiados no desejo de serem libertos.

EN
__
Our brand goes beyond design.
It's a manifest!
We live in a world surrounded and affected all the time by smells, textures, flavors, colors, gestures, pictures and sounds that change and reverberate our way of expressing ourselves and living within this multifaceted, tangible and collectible universe, waiting to be transformed for a greater good.
We realized then that here design comes together and gains counterweight, a result of gravity on bodies, making them changeable, returning their tone of voice, now, unique, precise and specific. Free of copies
We act in noisy silence. We listen, hear and prostrate attentively we want to understand your pains, happiness, achievements, dreams, particularities, singularities. After all, we are mirrors of ourselves.
And in this eternal return of eternal encounters, we want to interact, progress, understand people, partners and customers, in order to show what we feel and are, so that they can also communicate and influence with new proposals, reflections and ideas that will change the way that other people also see their mirrors around them.
Our brand is a philosophical and introspective manifest that touches on feelings previously locked in the desire to be released.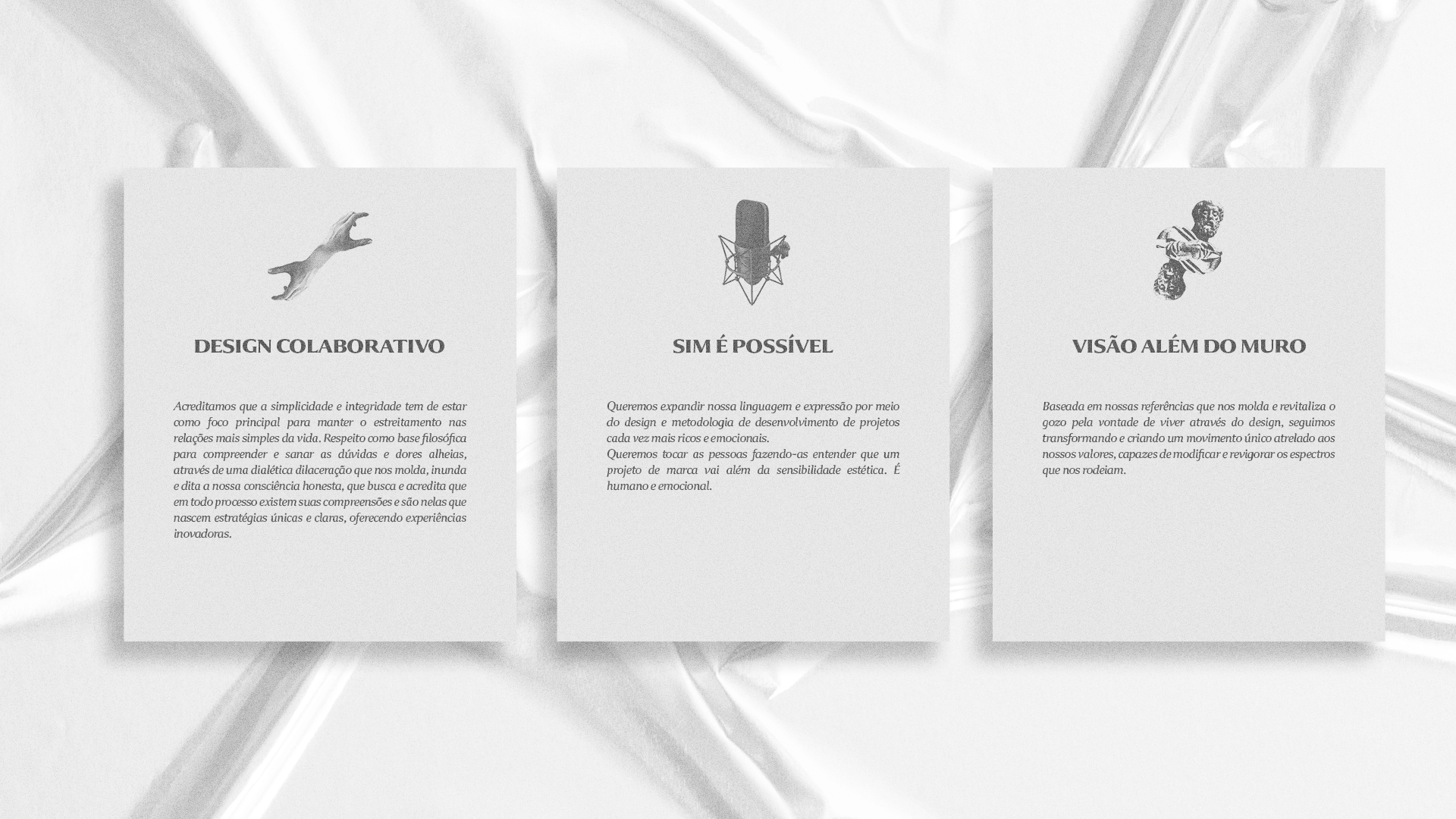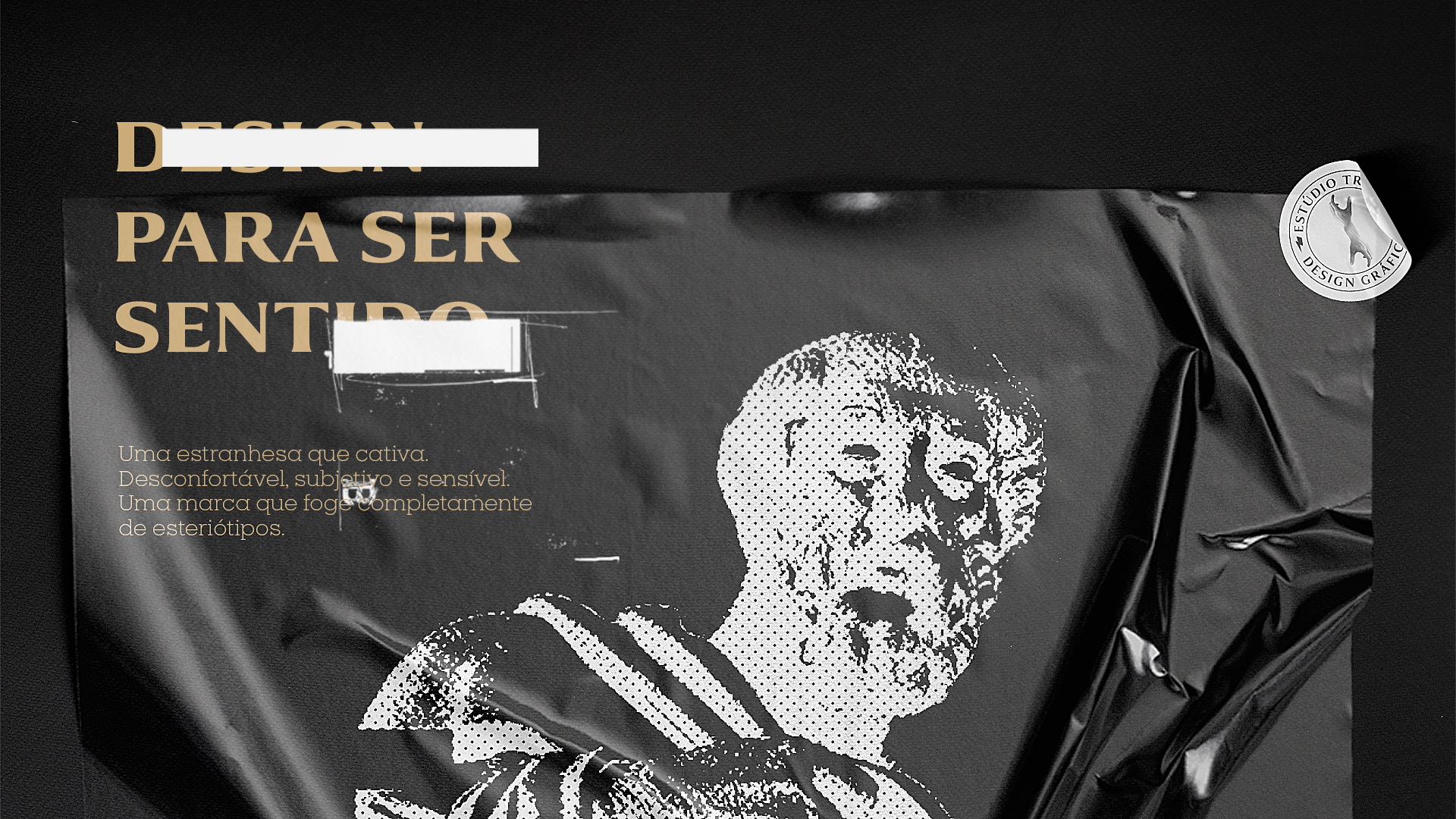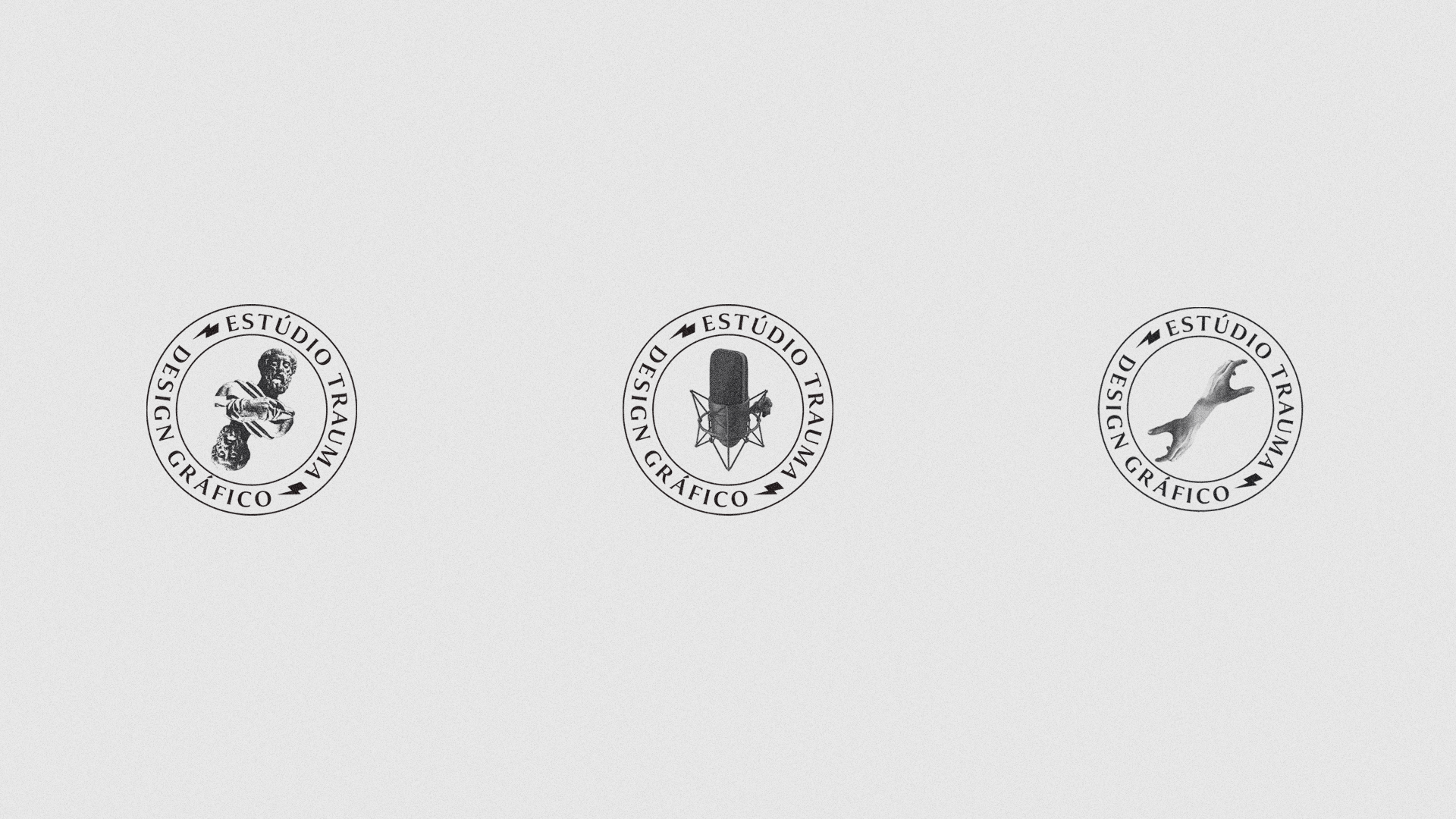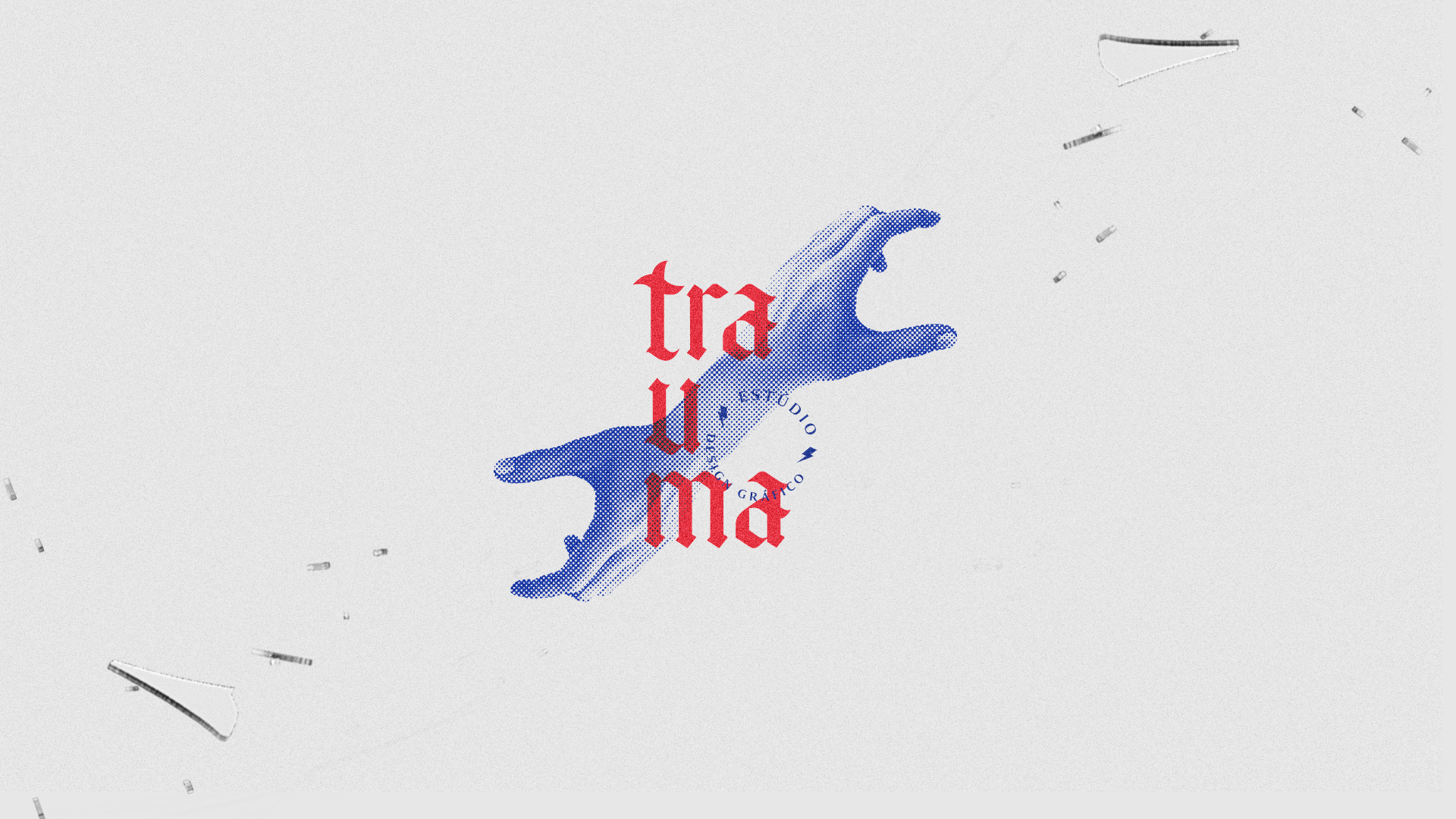 PT
__

Uma marca para ser sentida,
que carrega sua expressão afim 
de inspirar e cativar pessoas
A principio o conceito Trauma tem uma entonação um tanto complicada por se tratar de um nome com uma conotação negativa. Mas a nossa base vem de uma filosofia construída através de escritores como Albert Camus, Borges, Henry Miller, Franz Kafka, Nietzsche e por ai vai. Nossos valores foram construídos através desses ensinamentos. Não diria que somos pessimistas, pois o pessimista é muito chato, mas gostamos de sempre estar com os pés no chão.
Uma ideia que sempre nos rodeou e aflora a criatividade. A ideia do eterno retorno, de que tudo sempre volta para nos assombrar. Aqui sem dúvida foi um ponto de partida. Construindo essa necessidade de ter uma marca onde pudêssemos expressar nosso trabalho de forma completamente original e distinta. Trauma em sua raiz é algo único e emocionalmente vinculado a algo que você sofreu ou passou. Mas lidamos com a palavra no sentido emocional da sua característica. Algo que marca você e molda quem de fato você é. E é assim que nossas entregas tem sido durante alguns anos atuando na área. Marcando emocionalmente nossos clientes, claro de forma positiva. Algo que carregará por toda sua vida ou quem sabe até durar sua paixão ao atual negocio, algo que perdure por décadas e mais décadas, um sentimento incrustado em sua essência.

EN
__


A mark to be felt,
that carries his expression in order to inspire and captivate people
At first, the Trauma concept has a somewhat complicated intonation because it is a name with a negative connotation. But our base comes from a philosophy built through writers like Albert Camus, Borges, Henry Miller, Franz Kafka, Nietzsche and so on. Our values ​​were built through these teachings. I wouldn't say that we are pessimists, because the pessimist is very annoying, but we like to always be down to earth.
An idea that has always surrounded us and touches creativity. The idea of ​​eternal return, that everything always comes back to haunt us. Here, without a doubt, it was a starting point. Building this need to have a brand where we could express our work in a completely original and distinct way. Trauma at its root is something unique and emotionally linked to something you have suffered or gone through. But we deal with the word in the emotional sense of its characteristic. Something that marks you and shapes who you really are. And this is how our deliveries have been for some years working in the area. Emotionally marking our customers, of course in a positive way. Something that you will carry throughout your life or maybe even your passion for the current business will last, something that will last for decades and decades, a feeling embedded in its essence.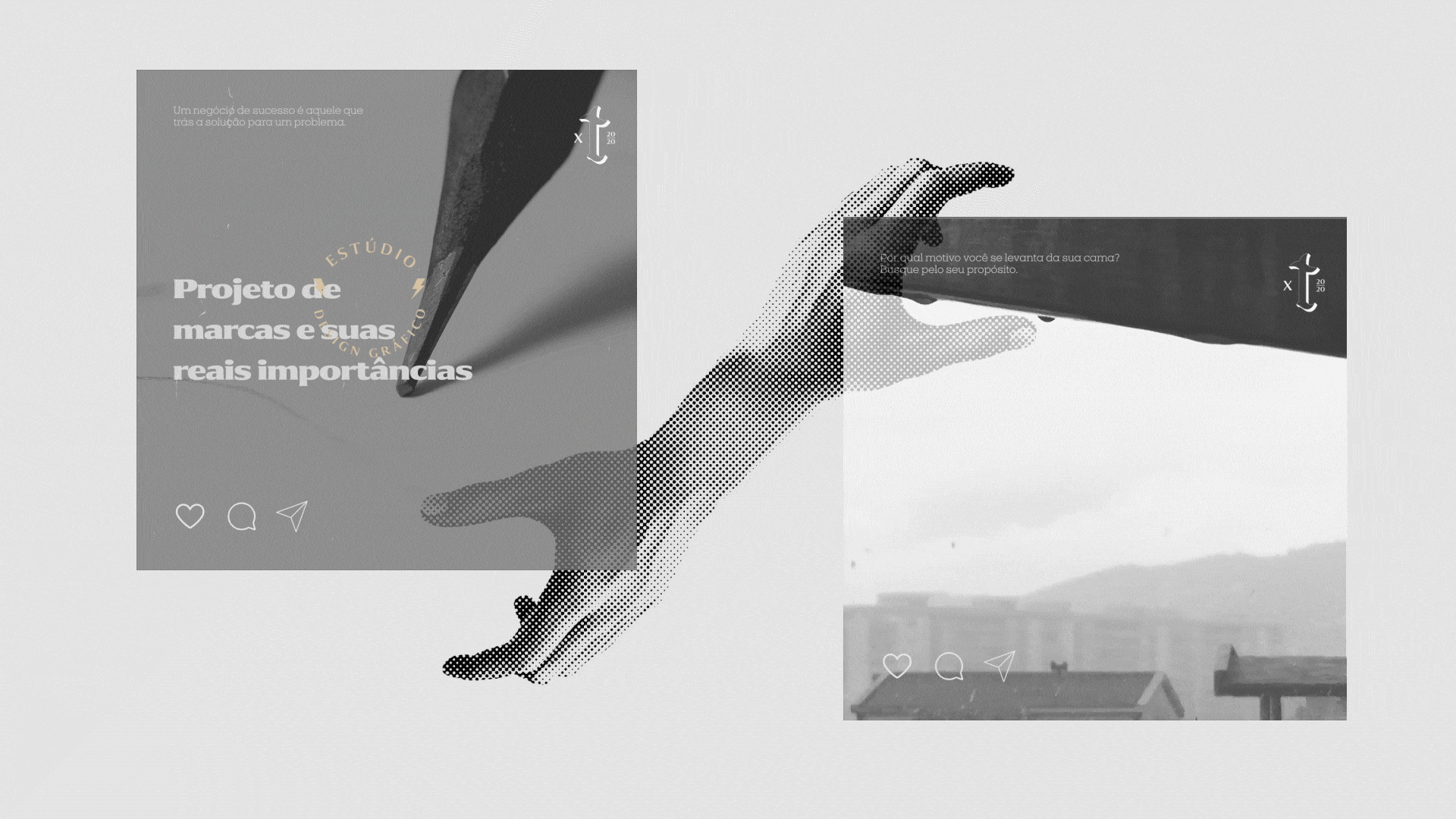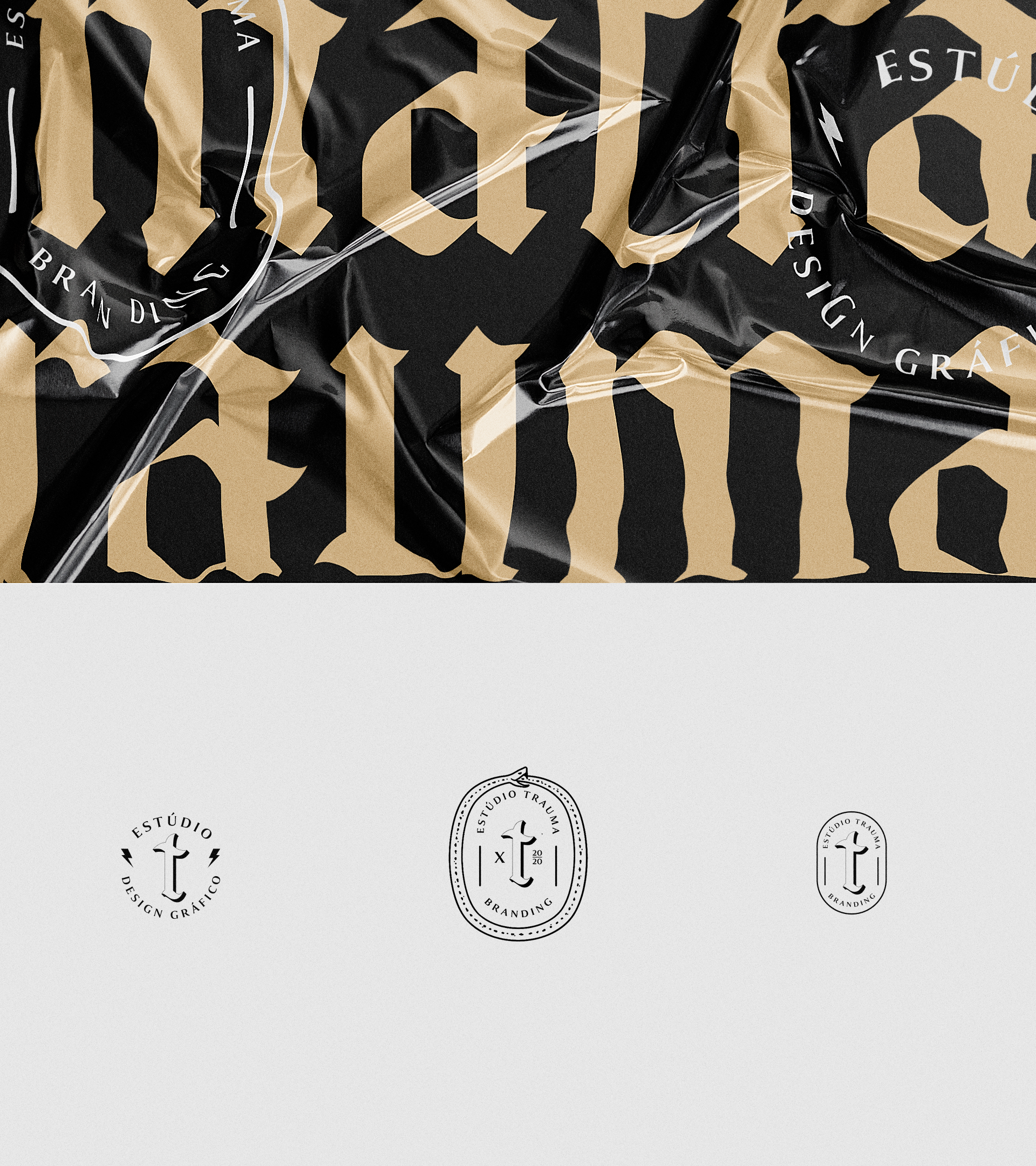 Referências que nos moldam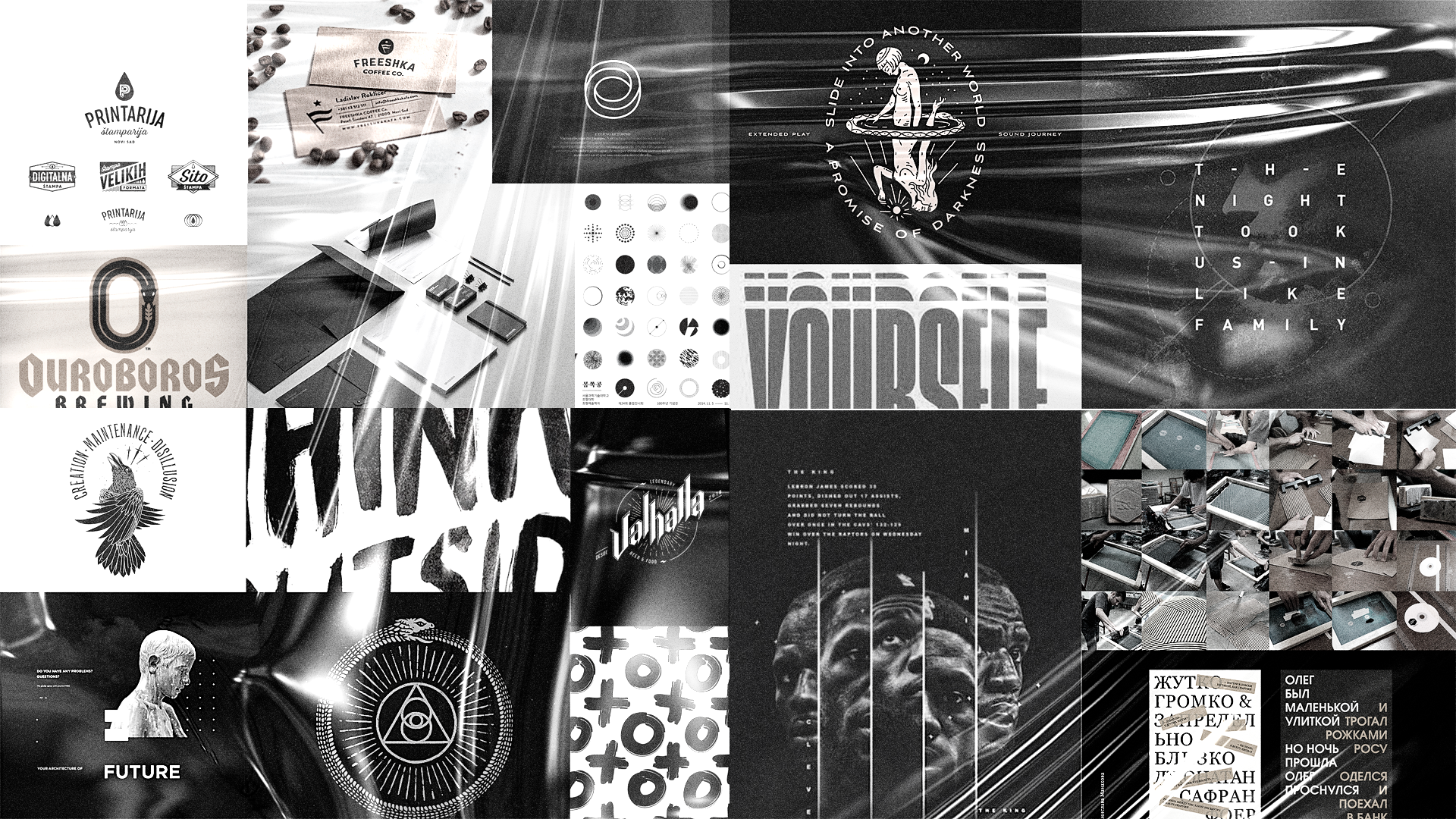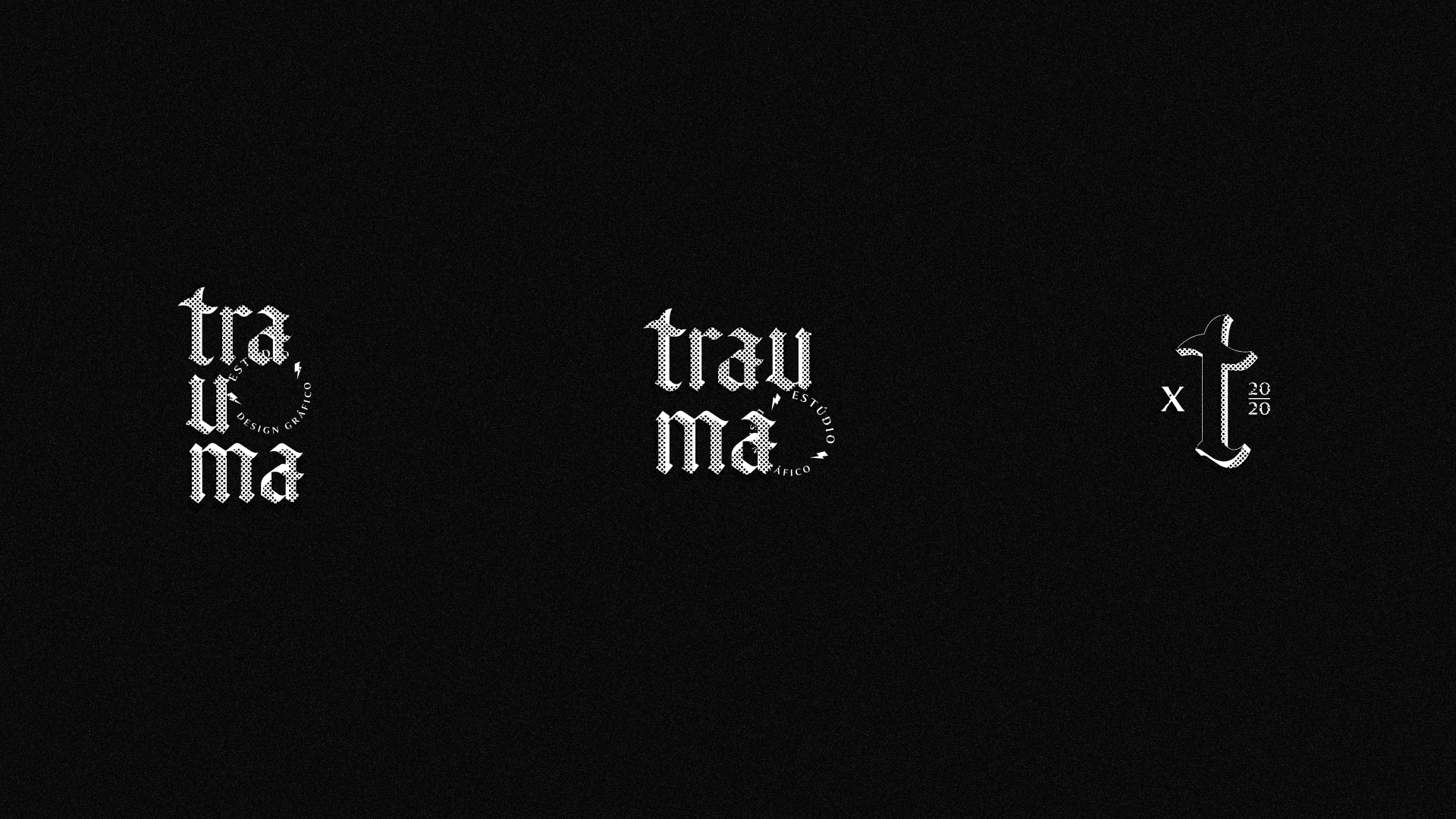 PT
__
Queremos ir além com a nossa marca. Criar um universo físico, uma sensação de estilo e controle. Adotamos um estilo streetwear para algumas peças da nossa grife, que denominamos
Street Violence
Design
. Um design para agredir os olhos e aguçar os sentidos. Uma marca para quebrar tabus. 
Streetwear é um estilo de roupas casuais que se tornou global na década de 1990. Ele cresceu da cultura do surf na Califórnia e da moda hip hop de Nova York para abranger elementos de roupas esportivas, punk e moda de rua japonesa. Eventualmente, a alta costura se tornou uma influência.
E aqui nós encaixamos o nosso estilo. Uma mistura urbana, uma gravidade para ser sentida.
EN
__
We want to go further with our brand. Create a physical universe, a sense of style and control. We have adopted a style streetwear for some parts of our brand, we call Street Violence Design. A design to attack the eyes and sharpen the senses. A brand to break taboos.

Streetwear is a style of casual clothing that has become global in the 1990s He grew up the surf culture in California and hip hop fashion New York to encompass elements of sportswear, punk and Japanese street fashion. Eventually, the couture became an influence.

And here we fit our style. An urban mix, a gravity to be felt.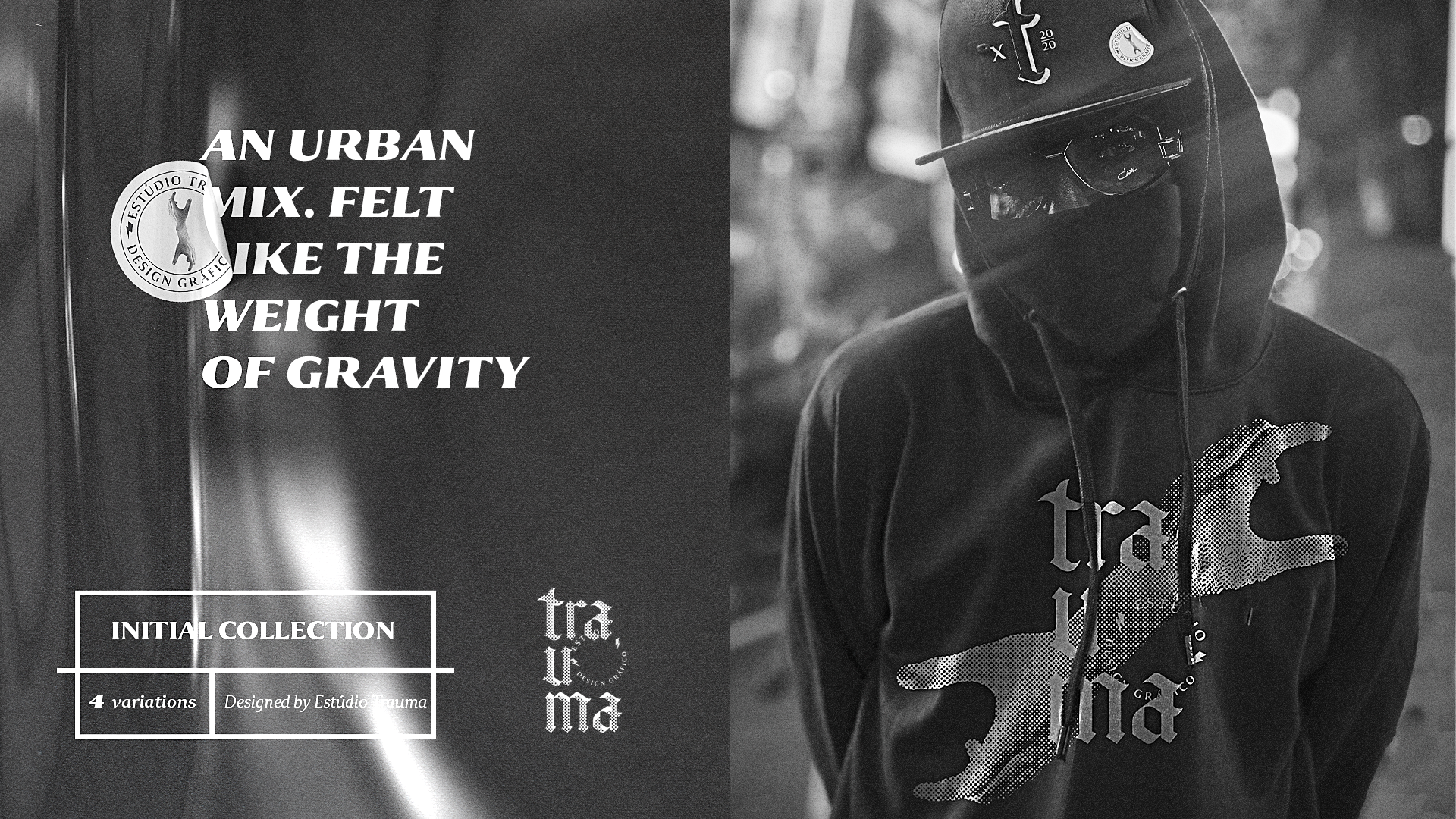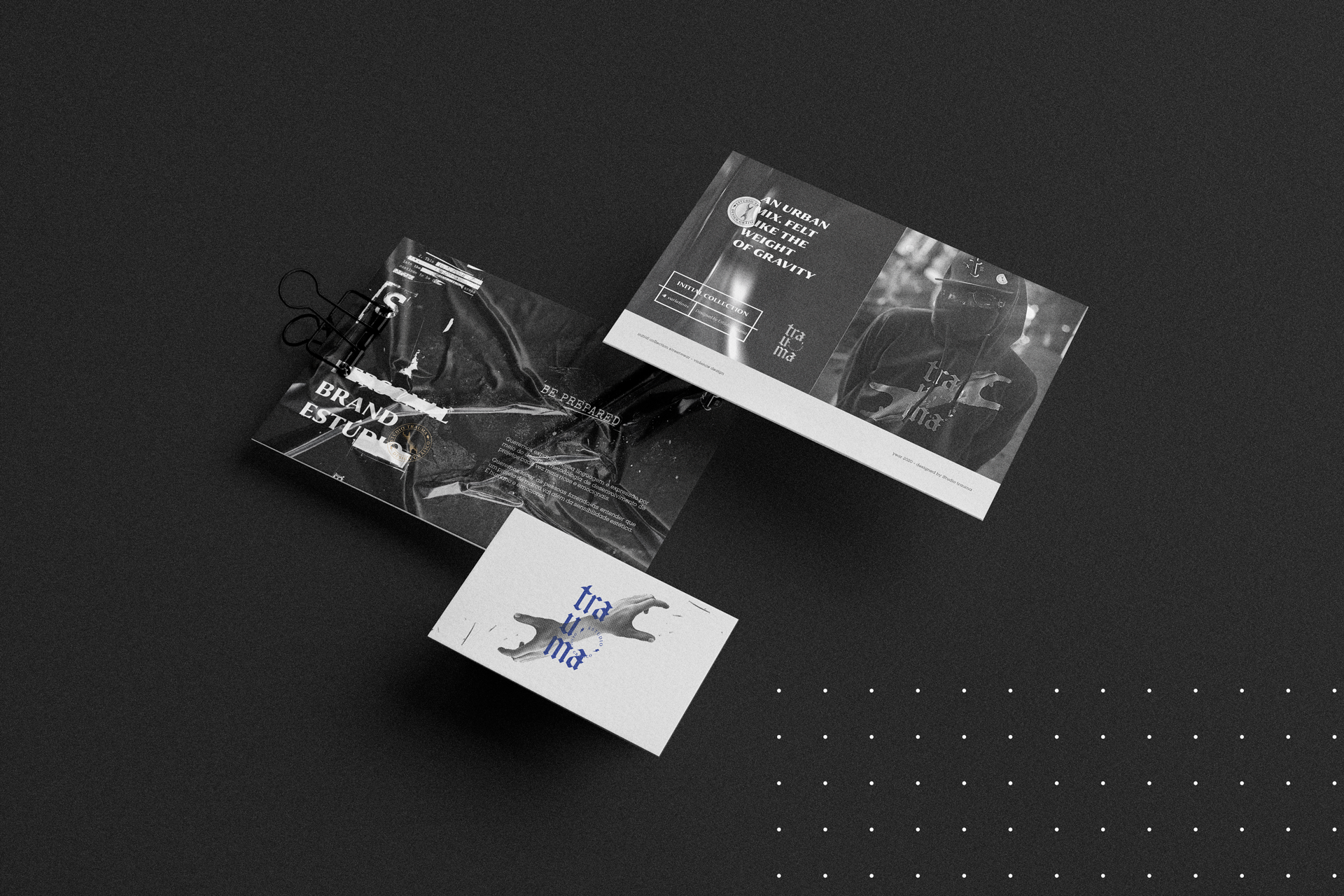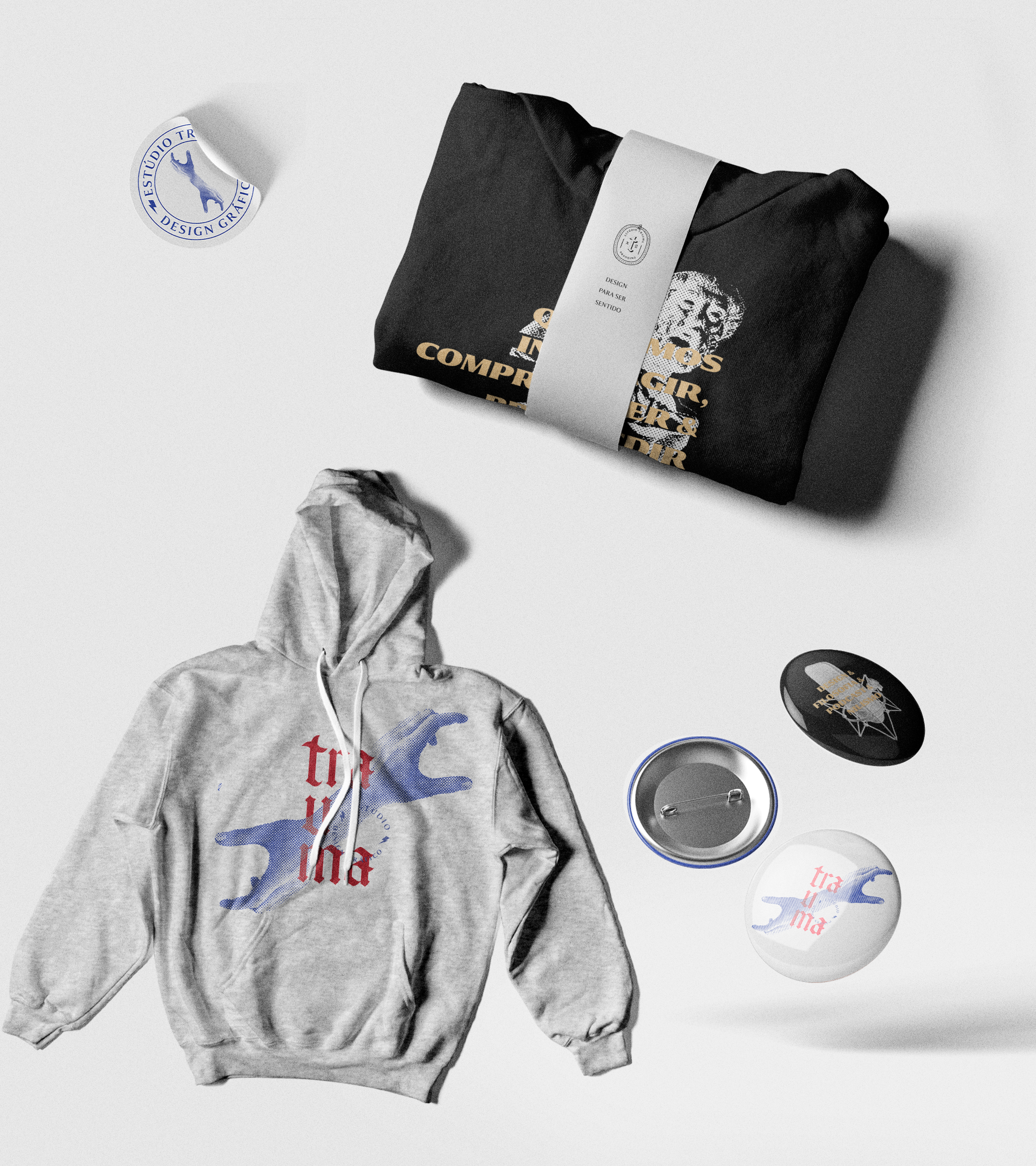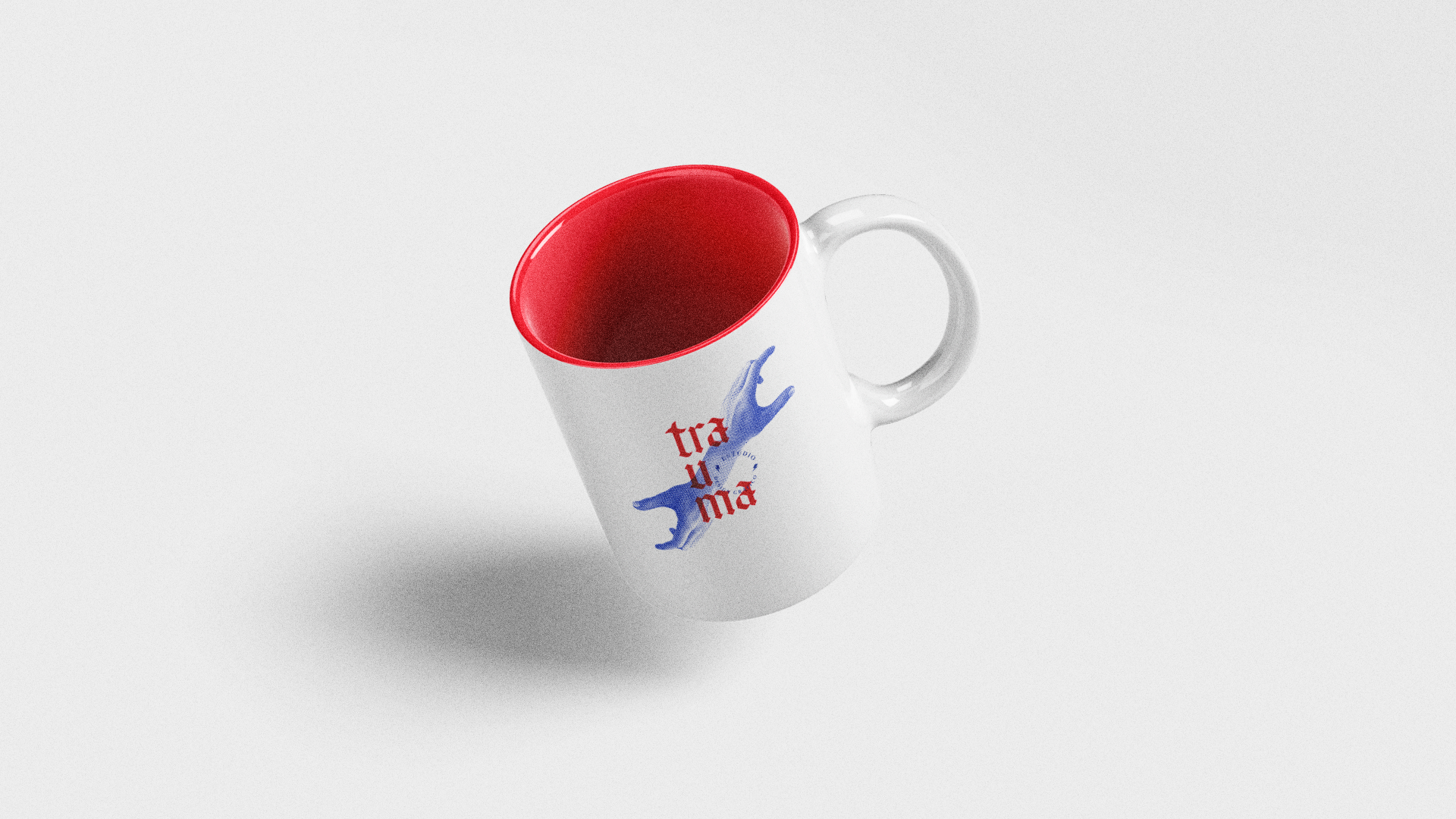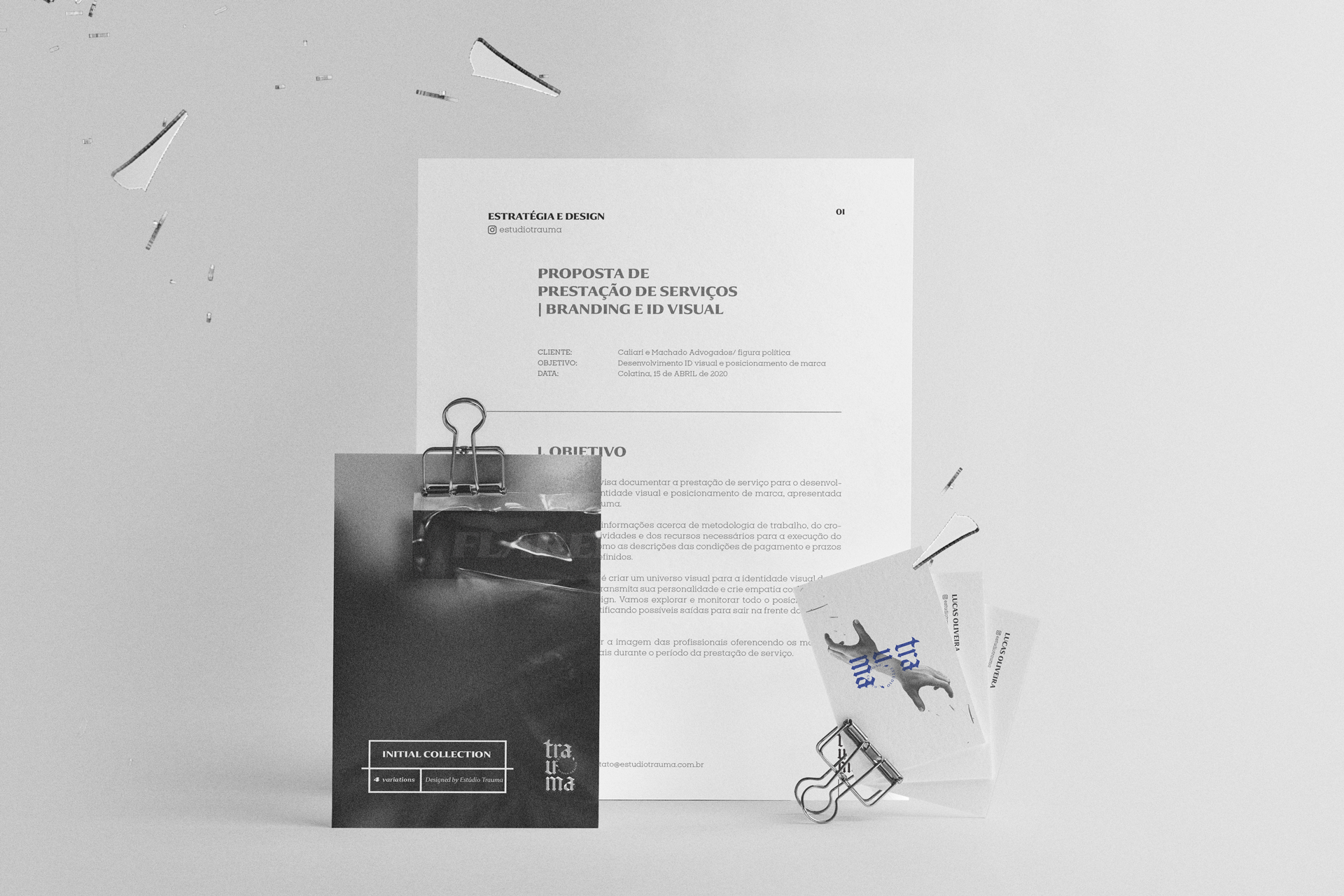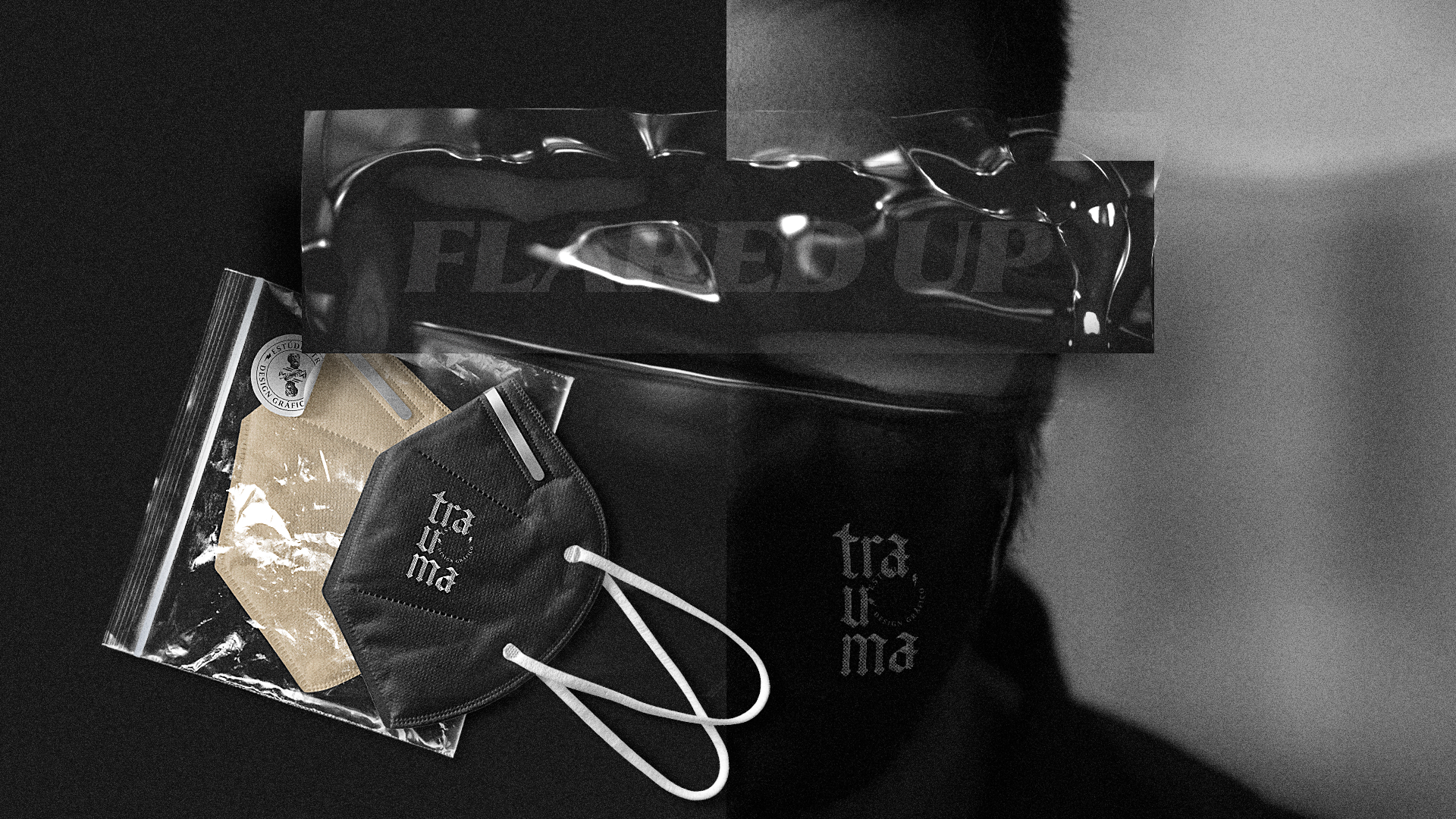 For all of our stationery materials, we seek to reduce some costs. We chose to use kraft envelopes and adhesive stickers to have a multi function inside the stationery. In addition, we also chose to create custom polymer stamps.
This made activating the affection for the brand even more, humanizing and making people also realize this characteristic that is present in all our materials.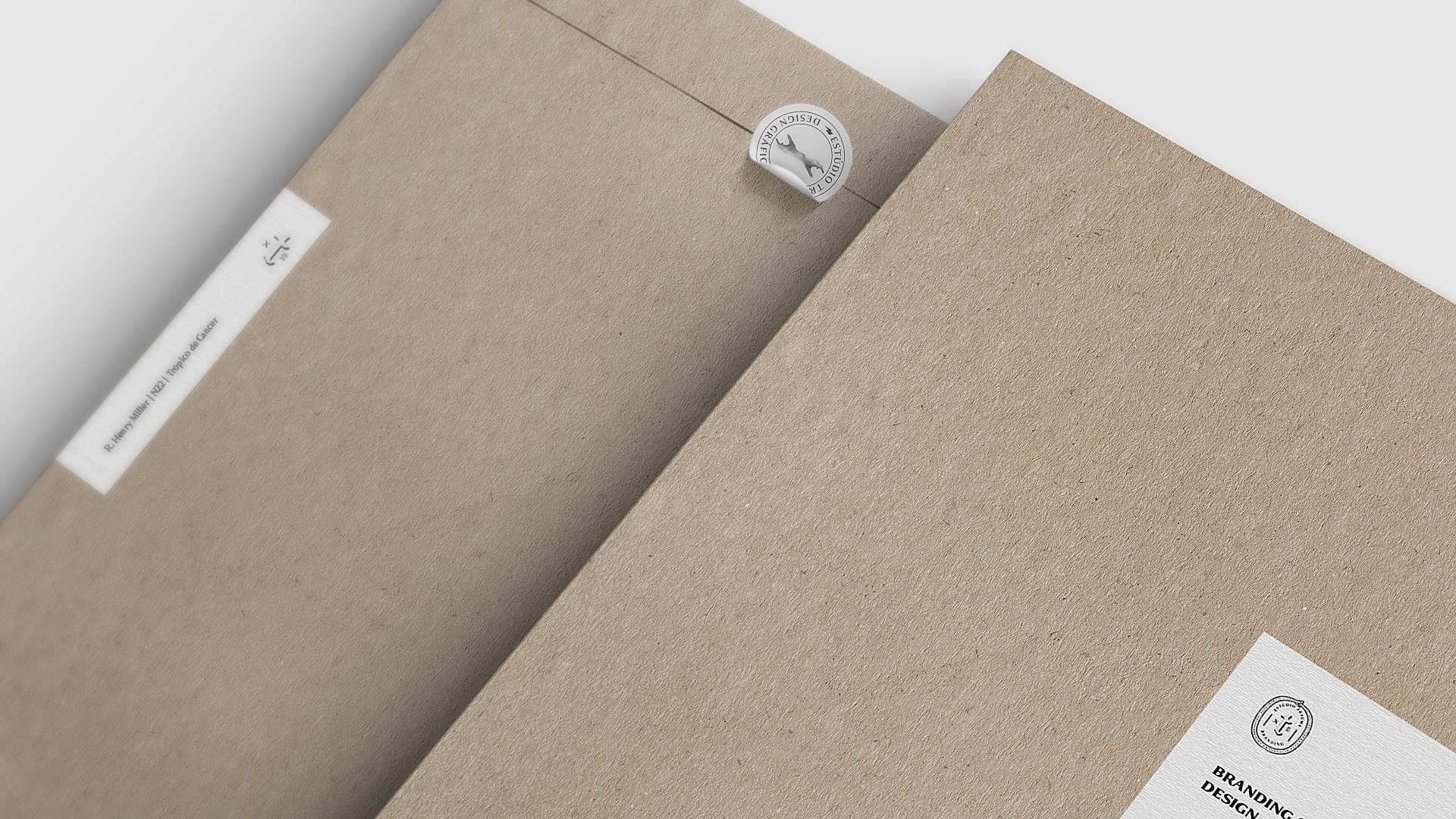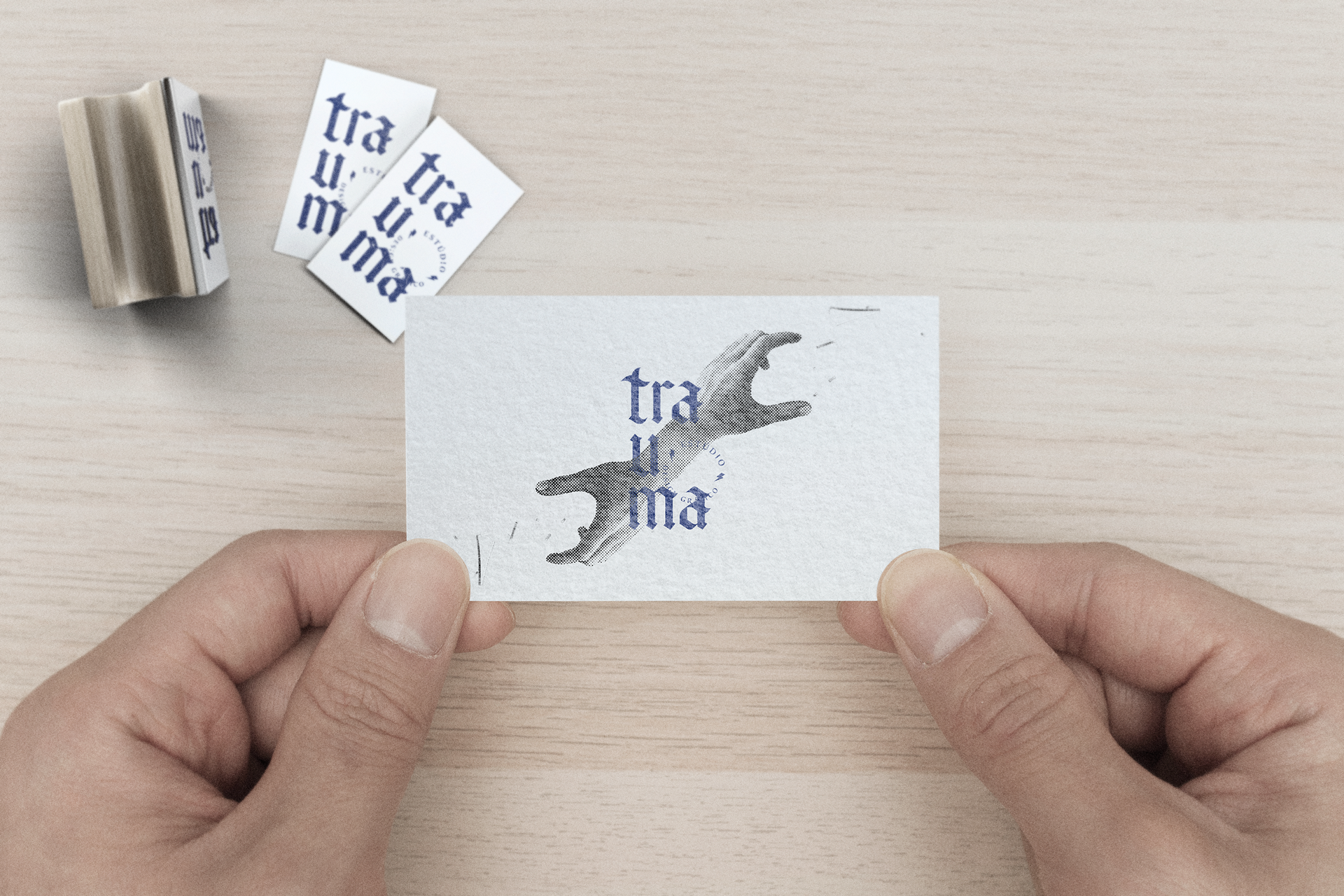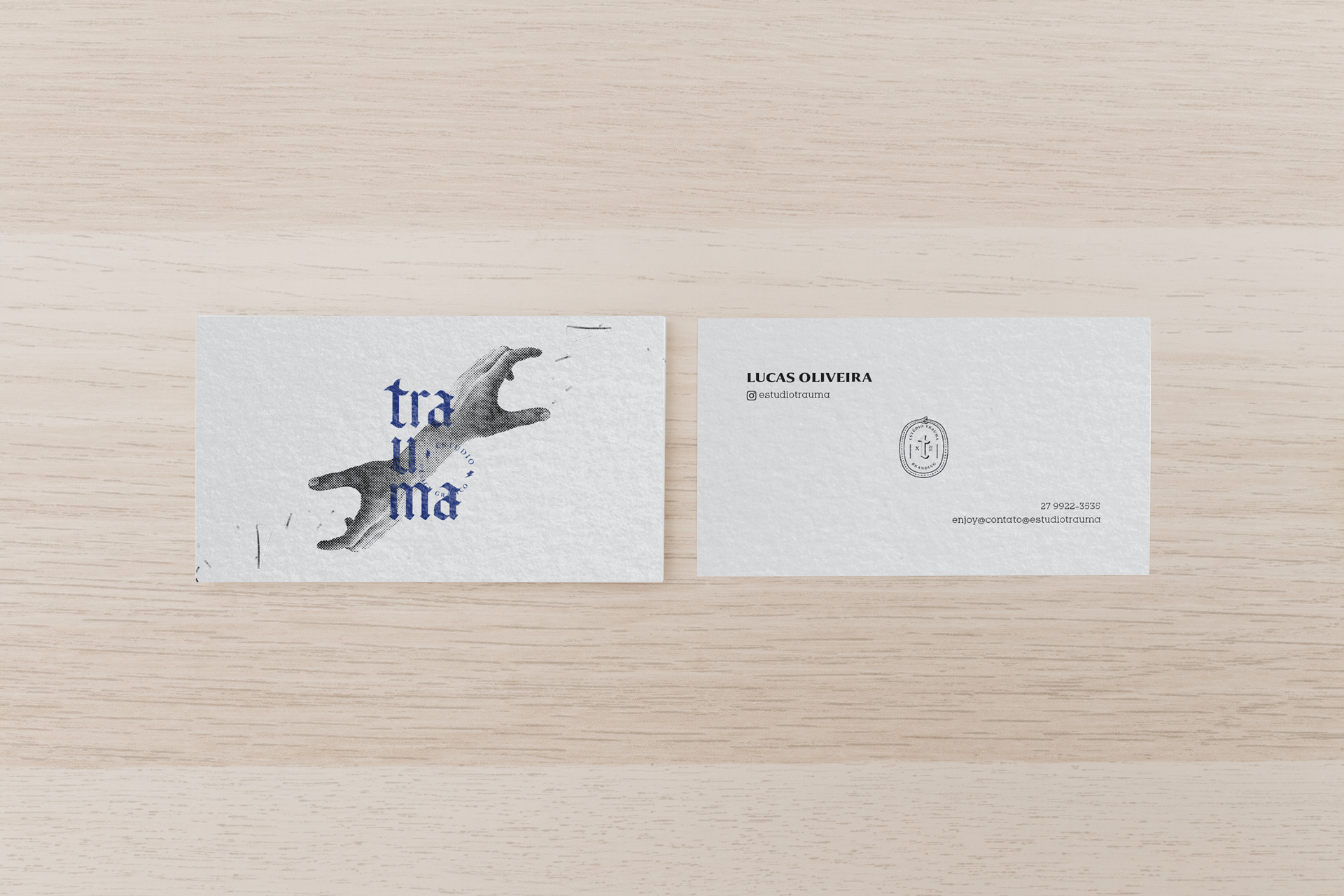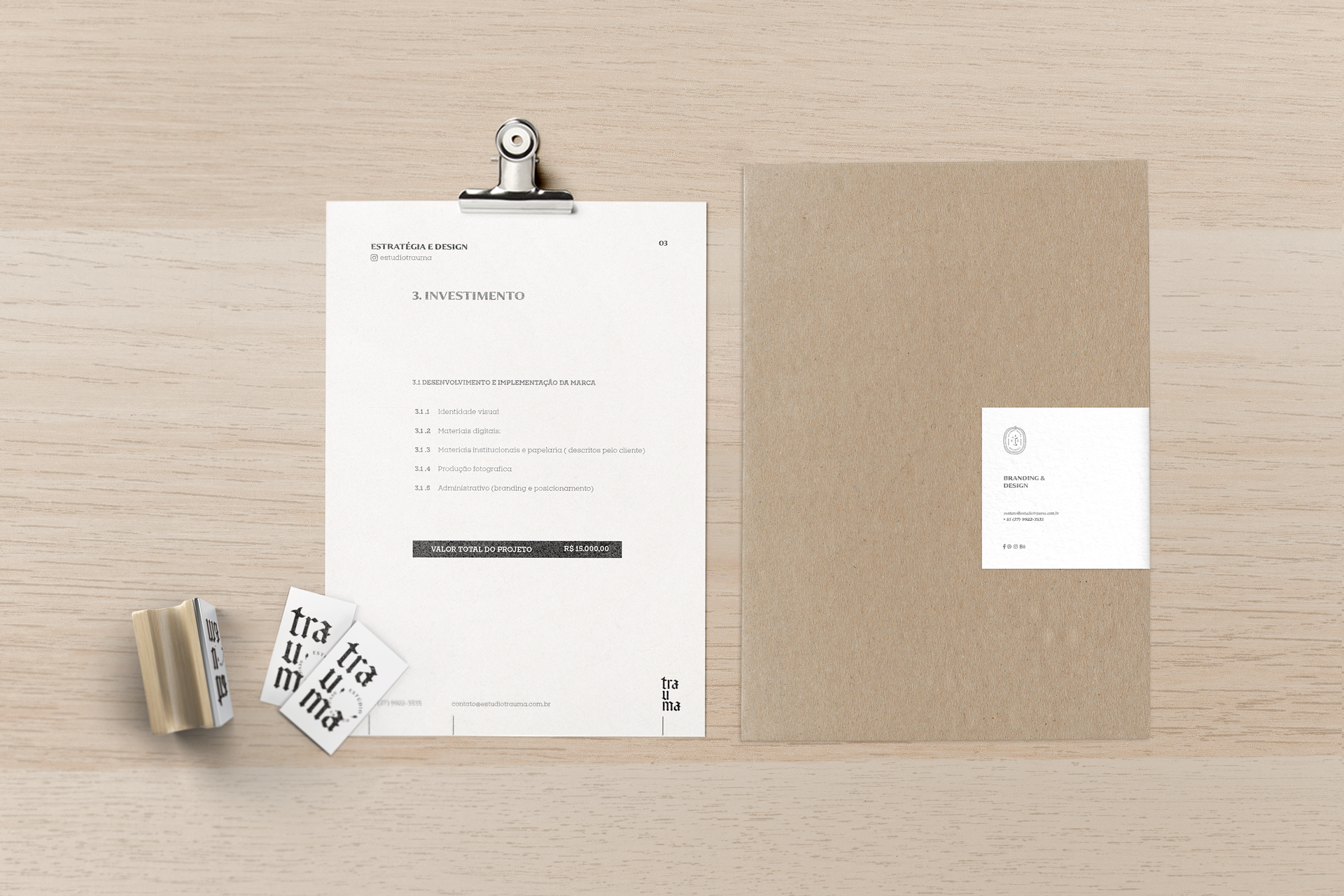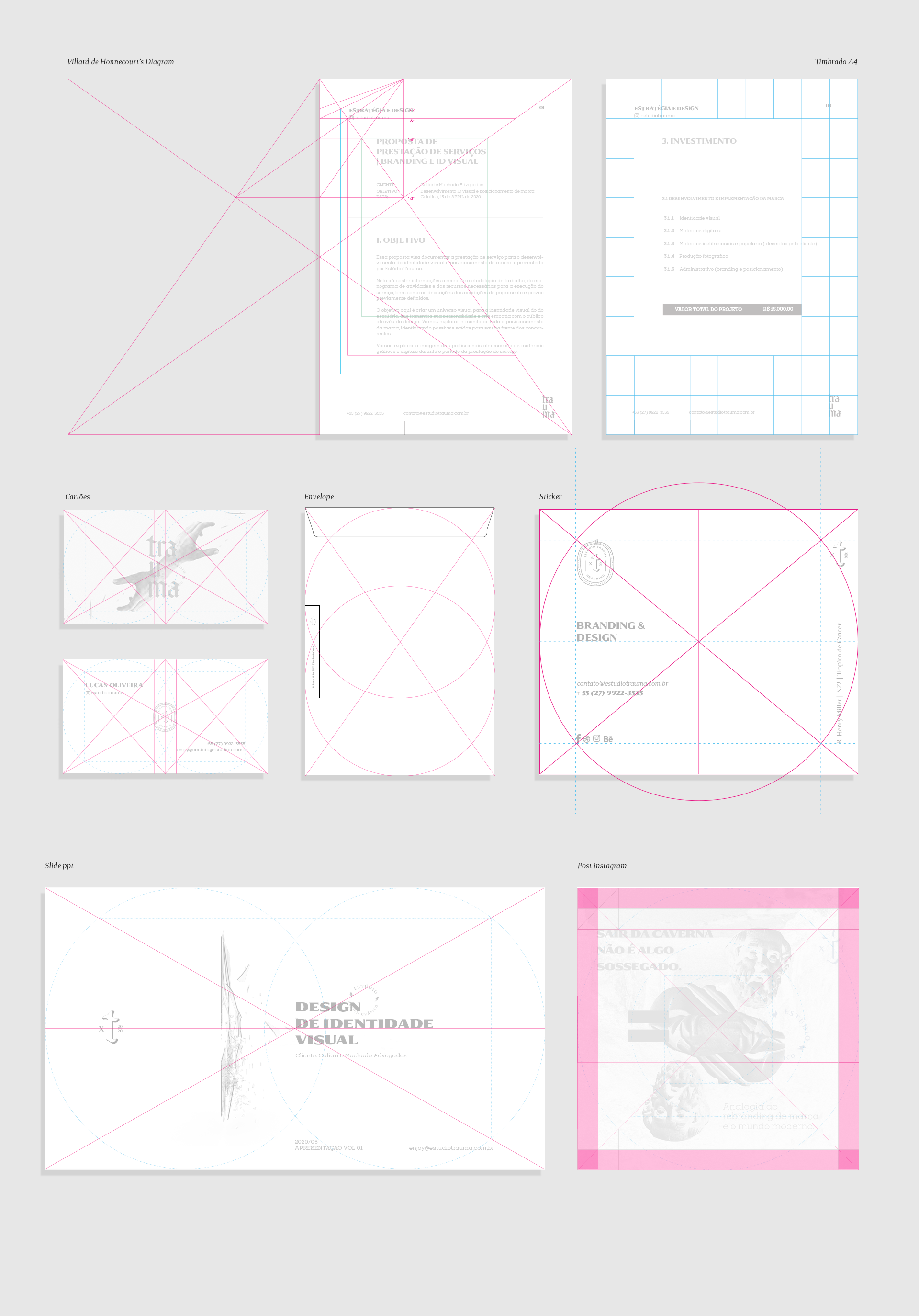 Further strengthening our street concept, we made a few pieces to compose some posters with the philosophy of collages (Lambe Lambe) The idea was to bring the everyday people our visual expression. An intimate way to bring our voice to their lives.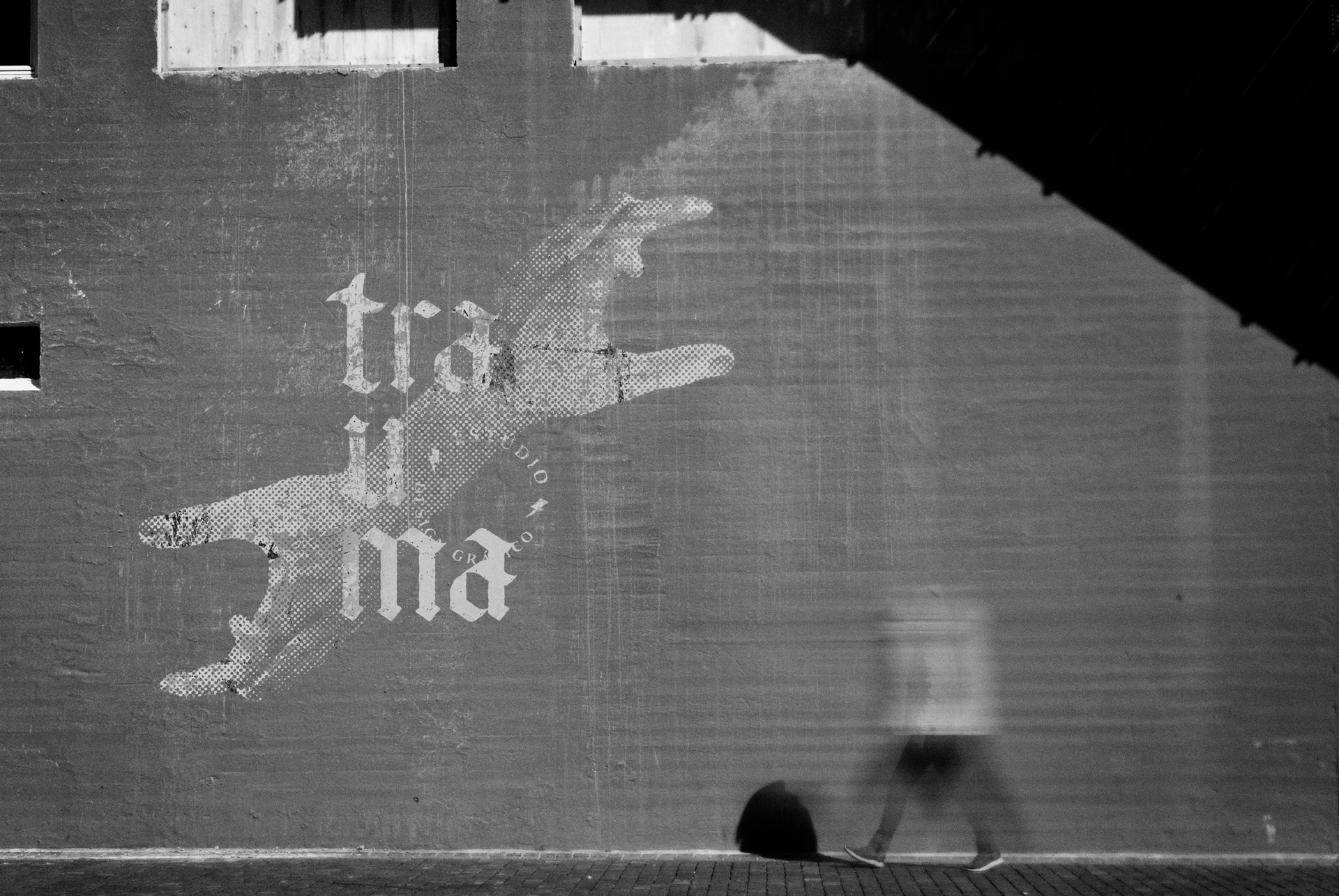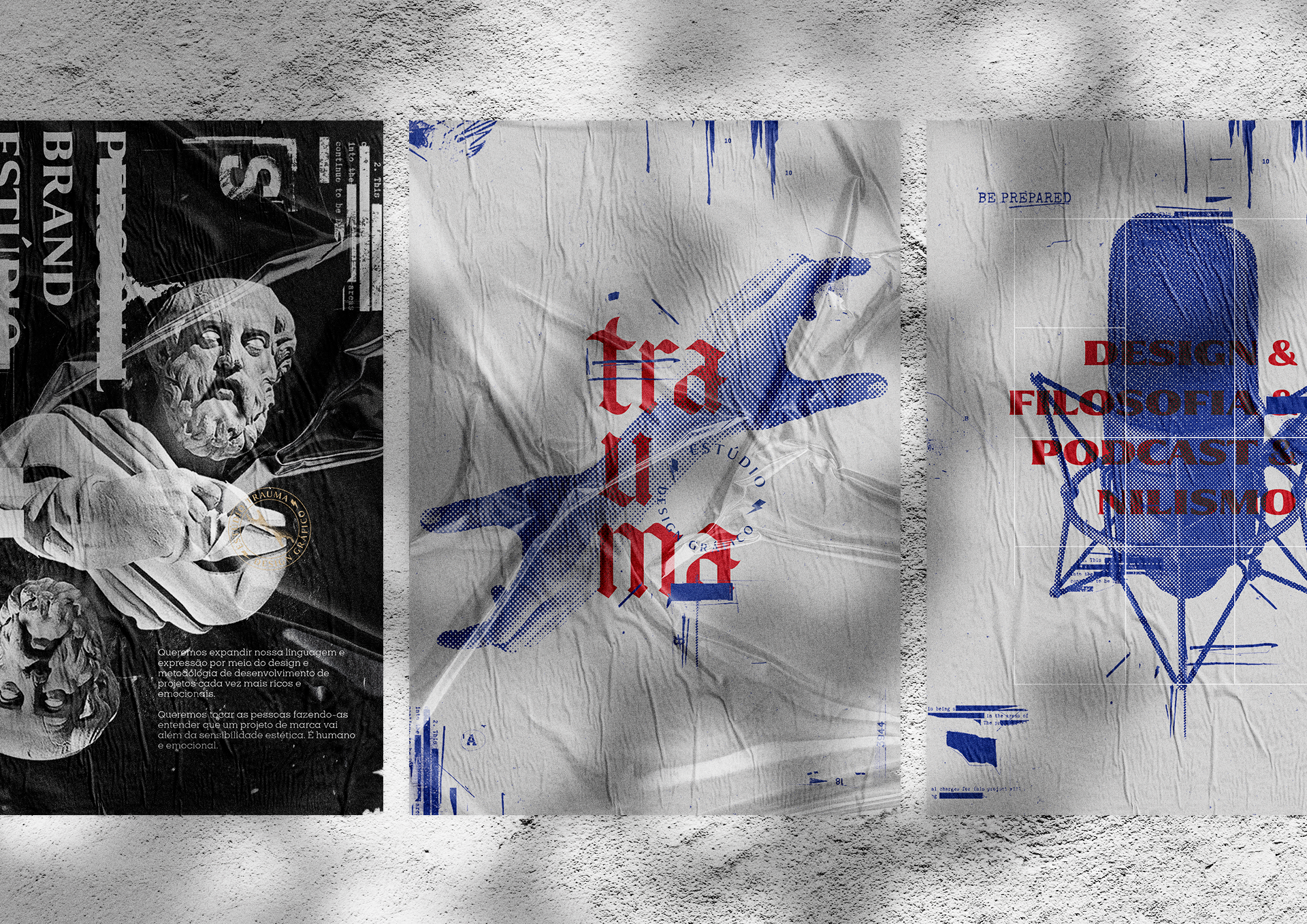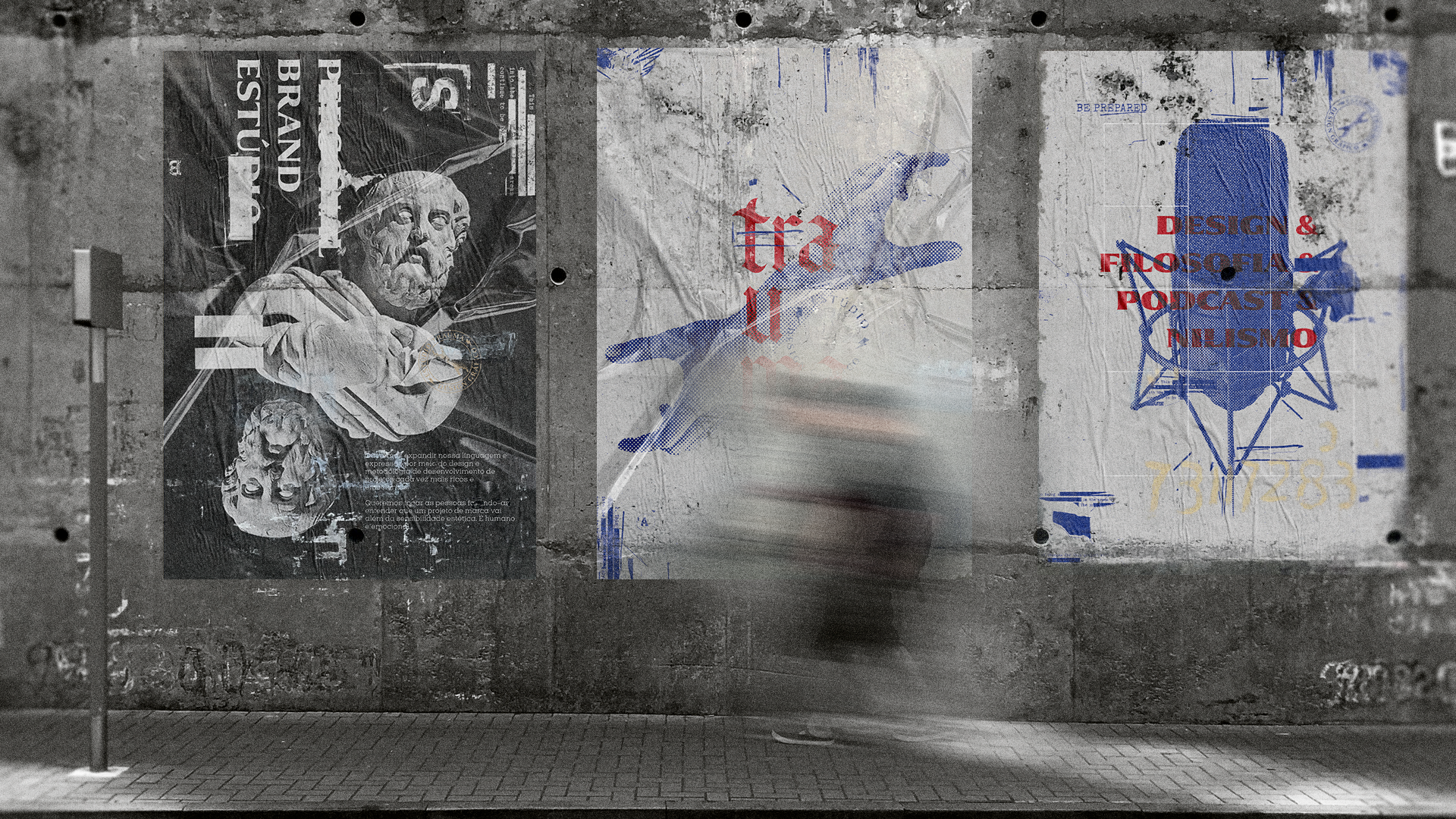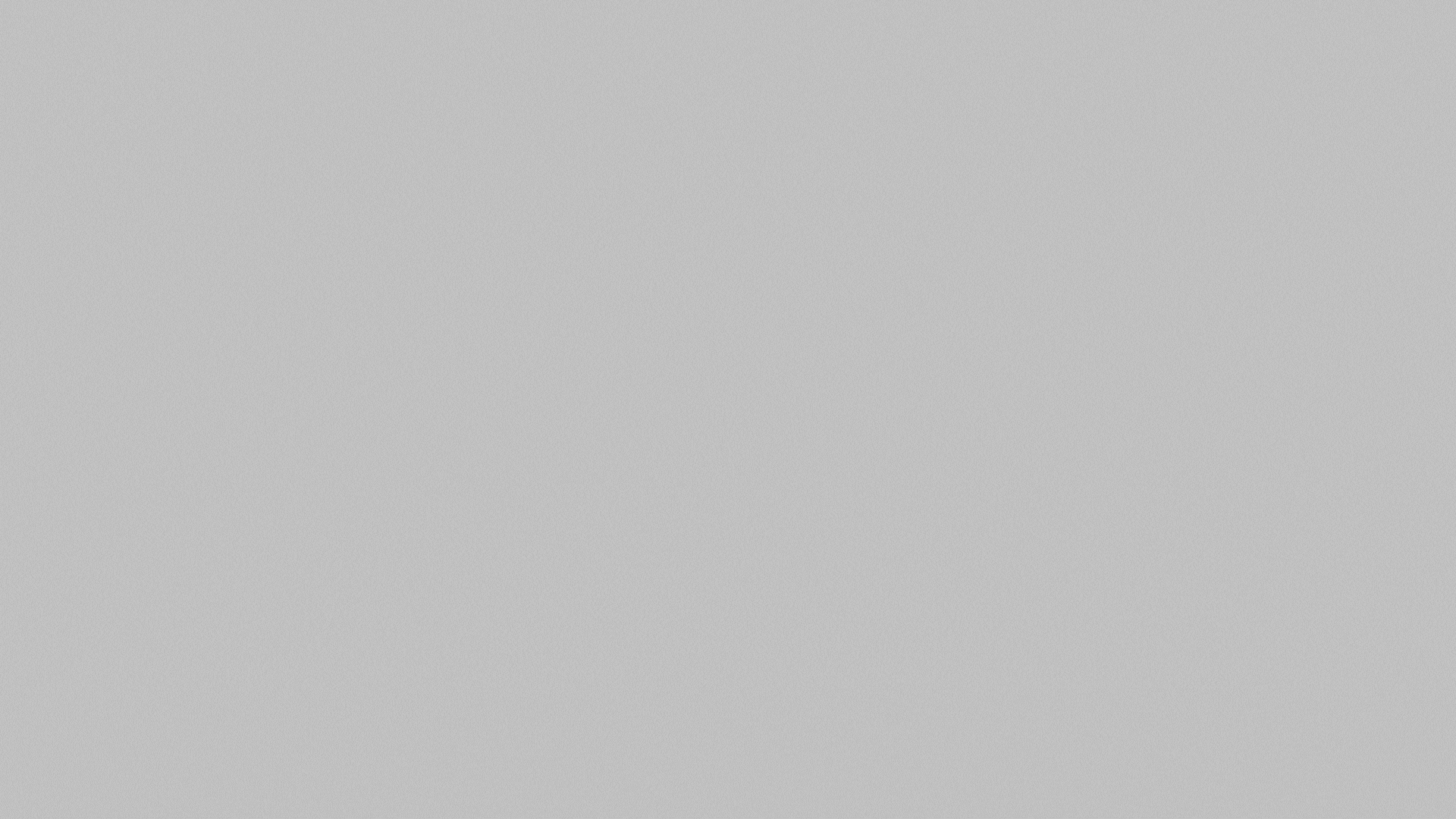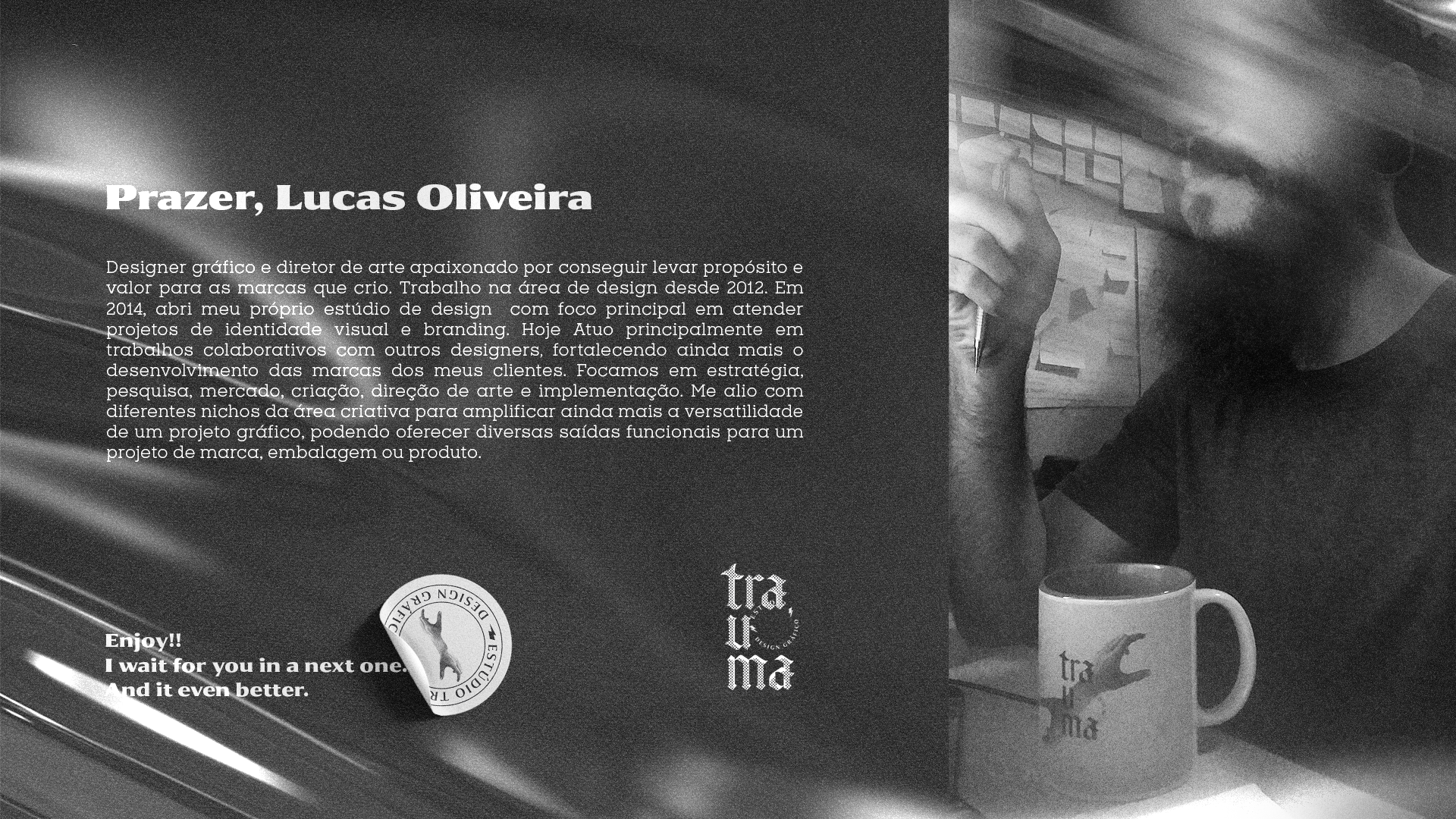 Nossa marca é um manifesto filosófico e introspectivo que aflora sentimentos
SERVIÇOS
Linguagem e Posicionamento / identidade visual / Direção de arte
SIGA